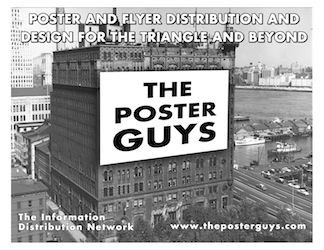 Most people e-mail us at matt@theposterguys.com and this is what we tell them:
"Bring your posters or flyers to our drop-off point at 102 Old Pittsboro Rd in Carrborro. Its easy to find. If you are coming from Chapel Hill take the Main Street fork(left) after you cross the tracks, then turn left at the traffic light at Wendy's and turn right on Old Pittsboro Rd which is the second street after Wendy's. It's the 2nd house on the right with a very big tree in the front yard- we share a driveway with the first house. Just leave them on the front porch and we will get them. If you are coming from the Bi-pass or Highway 54 there are two entrances to Old Pittsboro Rd, one at the bottom of the hill at the circle, and one at the top. You will need to go 3/4ths of the way around the traffic circle. If you enter from the bottom we are the 2nd to last house on the left. If you enter from the top we are the 2nd house on the right.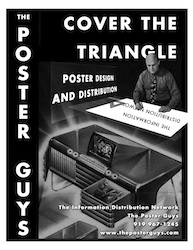 We start Chapel Hill on Sunday so you need to have your posters there by Saturday night. We can also get them on Monday but it means more work for us and going back to the places we went on Sunday which often are full by Monday. We do Durham on Wednesday.
We also pick up on Wednesday in Durham at Regulator Books on 9th Street. Make sure your posters are there by noon.
The cost is $50 per 100 posters and we do 100 posters in each town though we can do 200 in Chapel Hill/Carrboro. So if you just want Chapel Hill done leave 100 or 200 posters and a check for $50 or $100. If you want to do Chapel Hill and Durham we would need 200-300 posters and $100-150. (If you want us to include North Carolina Central and Durham Tech add 100 posters and $50 but we need them at least 3 weeks before the event)
You can write checks to The Poster Guys. If you are an University organization or a business or non-profit that needs to submit invoices for payment leave a billing address with the posters. Struggling Non-profits and Musicians pay half price though there are a couple stipulations mentioned on the front page and we don't consider Universities, Towns, Cities, Counties or the State of North Carolina as "Struggling Non-Profits". (Basically we feel that if you can afford to pay full price then you should and that enables is to offer the half price discount to those who actually need it.
There is also a paypal thingy on the bottom of the front page that you can use.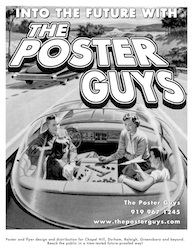 In Chapel Hill we cover the public bulletin boards at UNC campus, hospital and medical center, the poster kiosks on Franklin and Rosemary Streets, any shops, restaurants and cafes with bulletin boards, Carrboro, Weaver Street Market, Farmers Market, Art Center, Century Center, Chapel Hill Library, and a few other places.
In Durham we cover Duke University east and west campus, Medical Center, 9th Street, Broad Street, Whole Foods, and Brightleaf Square. We also do NC Central and Durham Tech by special request.
In Pittsboro we hit Chatham Market (8.5x11 only and we give them the posters and they put up whatever fits. We also do the 3 kiosks in town and on the CCCC Campus. In Hillsborough we hit whatever poles they don't tear posters down from immediately, Weaver St Market and a few other shops.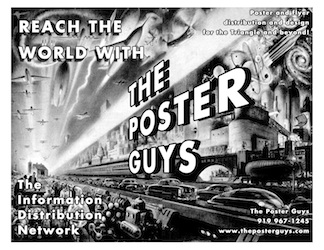 Chapel Hill and Carrboro customers can also have their posters printed at The Ink Spot on Main Street in Carrboro and we can pick them up there at no extra charge. But they need to be there by Friday because they close over the weekend. You can call them for rates at 919 933 0005. Its the best place to get copies because they can usually do them right away because they are never busy and you can always find parking there for free. The other option is Kinkos/Fed Ex on Franklin Street and we can pick them up there at no charge. Try to have them ready by Sunday morning when we go out early and do Franklin Street.
For more Information and special jobs like posting all over the country you can e-mail Matt Barrett at matt@theposterguys.com
If you want to mail them send them to:
The Poster Guys
102 Old Pittsboro Rd
Carrboro. NC. 27510
Be sure to include a check made out to The Posterguys
There is also a paypal thingy on the bottom of the front page that you can use.