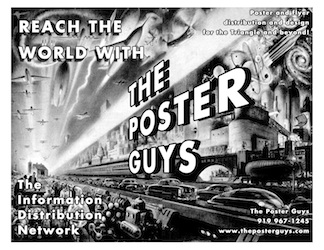 As any of our clients will tell you, the cheapest, fastest and most effective way to get your message out to the public is with posters and flyers. The best way to get them up and be assured that they stay up is by using us: The Information Distribution Network, aka "The PosterGuys". We will place your poster or flyer on Bulletin Boards in Chapel Hill, Raleigh, Durham, and on campuses all over North Carolina if necessary. We are in touch with a nation of posterguys and can get your flyer posted on any college campus in America. We have over 30 years experience and know of thousands of locations that we can choose from to get you the best response. We also return weekly to the same boards and keep them in order and make sure your posters have not been covered up and we replace them on the boards that get cleared weekly.
We are responsible, reliable, fast and efficient.
See Samples of our work.
See How it works
We are the only advertising company in America featured
on a US Postage Stamp!
Read A History of the Posterguys
The Information Distribution Network
The Poster Guys
102 Old Pittsboro Rd
Carrboro. NC. 27510
919 967 1245
matt@theposterguys.com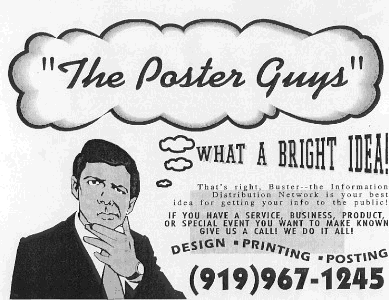 Visit us on Facebook to see our weekly photos and other cool things